Vision Services & Products
Visit our offices in Church Point and Crowley, Louisiana to meet your eye care needs.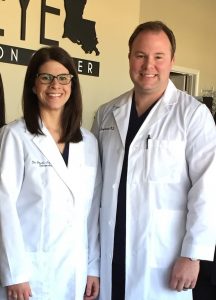 As your primary eye care provider, LA Eye & Vision Center is here to help you achieve and maintain healthy vision.
We employ advanced diagnostic technology and vision correction products to improve your quality of life through enhanced vision.
While the scope of optometry is broad, here are some of our main services:
Comprehensive Eye Exams
No matter your age or physical health, routine eye exams are critical.
During a comprehensive eye exam, your eye doctor will test your visual acuity, check for common eye diseases, assess how your eyes work as a team, and evaluate your eyes as an indicator for your overall health.
Treatment of Eye Conditions & Diseases
Your eye doctor at LA Eye & Vision Center has experience diagnosing and treating a wide variety of common eye conditions and diseases.
We utilize state-of-the-art diagnostic technology and advanced treatments to provide you with quality care.
If you're concerned about the health of your eyes, don't hesitate to book an appointment.
Eyeglass Lenses & Frames
Glasses are a very personal choice, which is why we offer wide selection of lenses and frames at our Church Point office.
Let our experienced staff guide you toward a pair that looks great and meets your unique visual needs.
Contact Lenses
Contacts are a convenient option for many people and, in some cases, may provide more enhanced vision correction than glasses.
LA Eye & Vision Center can get you fitted for variety of contact lenses, including soft, gas-permeable, multifocal, color, and silicone hydrogels.